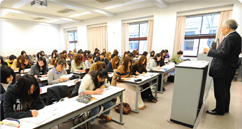 Faculty of Home Economics
web site

(Japanese only)

We are surrounded by so many possessions, and materially we live very rich lives. On the other hand, new issues are continuously arising; for example, lifestyle diseases and environmental destruction have become more serious, and human relations, beginning with those in the family and between parents and children, have changed greatly.
From now on, the study of Home Economics requires us to tackle these problems from the point of view of individual citizens, and to come up with methods of solving them by researching them scientifically.
The policy of the Faculty of Home Economics is to raise and educate independent professionals through education centered on "future-oriented science," the leading style of learning required by this new era.
The Faculty of Home Economics is composed of the following four departments and four majors: the Department of Clothing and Textiles, the Department of Food Science (Major in Food Science, Major in Dietitian Studies), the Department of Child Studies (Major in Child Studies, Major in Child Education), and the Department of Life Design, which have the following policies.