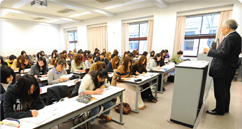 Faculty of Comparative Culture
web site

Broadly defined, "cultural studies" means the study of all human representational activity, namely "culture." This is a new and innovative field of study that is rapidly discovering new subjects of research.
The educational policy of the Faculty of Comparative Culture is as follows.
In order to study the cultures of regions all over the world, students will study English as a required subject, and also study one of the following foreign languages: French, German, Chinese, Russian, Spanish, or Korean.
Through lectures and seminars, students will do comparative research of the world's literature, art, religion, history, and culture, including Japanese culture.
In this way, the department will train people who can flexibly adapt to the rapidly changing international society. Thus, we cultivate a sense of "self within various cultures (choosing, as an individual, to work cooperatively to accomplish socially positive collective goals)."
The four-year curriculum of the Faculty of Comparative Culture is a developmental progression from entering the program (first year), cultural theory (second year), seminars (third year), and writing a thesis (fourth year). At each critical juncture, students meet for an informal talk with teachers to determine their own course.
Therefore, the Faculty of Comparative Culture not only encourages the study of culture, but also consciously encourages students' own sense of independence through their cultural studies.