Department of Domestic Science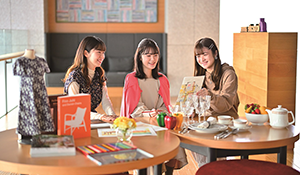 We foster the development of women who will live their lives appropriately for this new age, who are conscious of problems in daily life, and who will use their specialized knowledge and skills to proactively formulate strategies to deal with society's changes.
The Department of Domestic Science is comprised of the Major in Home Economics, the Major in Business, and the Major in Nutrition.
(1) Major in Home Economics
We teach students about all aspects of human life, which include such basics of life, clothing, food, housing, the environment, health, human relations, and child-rearing. By teaching applied skills and a wide range of specialized and practical knowledge necessary to respond to modern society, and through higher education and instilling an attitude of caring and compassion, we foster our students to develop into intelligent people who can uphold the spirit of Otsuma.
(2) Major in Business
By learning the basics of Home Economics, students grow into richly refined people, and come to understand the structure of modern society; we train students to use their information processing skills and business skills for careers in business.
(3) Major in Nutrition
In these times when people are more conscious of health and wanting better quality food, the role of the dietitian, who shoulders the responsibility of planning daily nutrition, is very important. By teaching knowledge and skills related to food and health, the Major in Nutrition aims to cultivate students to become dietitian, who are specialists in food and nutrition, who will use their specialized knowledge to contribute to the health of our society. In addition to classroom work, students are required to go through training outside of the school, at places such as hospitals, nursery schools, nursing homes, companies and businesses to acquire the practical knowledge and skills necessary to become a dietitian.