Facilities
Otsuma Women's University International Center
Otsuma Women's University places globalization efforts high on its priority list to further develop education and research, and the Otsuma Women's University International Center was established to promote enhanced international exchange at the university-wide level. Our wish is for as many students as possible to experience studying abroad while at the university. We have built a system to achieve this goal.
The Institute of Human Culture Studies
In April 2008, Otsuma Women's University's Institute of Human Living Sciences was rechristened the Institute of Human Culture Studies.
The former Institute had worked with the Graduate School of Home Economics for almost a quarter century, conducting scientific inquiries on all aspects of human life and nurturing young researchers. With the beginning of the 21st century, the new Institute took on a new role, becoming the core of Otsuma Women's University's research structure and a fundamental support for to the new Graduate School, the Institute of Human Culture Studies.
In order to build a harmonious society where individuals can lead full and satisfying lives, we must use our wisdom to overcome the myriad problems and ills that confront us.
To this end, the Institute of Human Culture Studies strives to create an alliance of experts, from within and also stretching beyond the university, that will develop a new "Study of Human Living," a field that transcends divisions between the natural sciences, social science, and the humanities.
The Institute of Human Culture Studies has several distinct strengths:
We are part of Otsuma Women's University, an institution with over a century of history.
We are based in Tokyo, a global center of information exchange.
Our university conducts research in such fields as Home Economics, Language and Literature, Human Relations, Social Information Studies, and Comparative Culture.
The Institute's mission is to utilize these strengths; we have already begun focusing our research efforts along the following objectives:
Create a new, interdisciplinary "Study of Human Living."
Promote international exchange and contribute to the global community.
Support the training of young researchers.
Develop and promote new research to benefit women through collaboration with both academic and lay organizations and individuals.
Collect and compile research and research support materials and distribute them in an easy-to-use format.
Under the banner of "the wisdom and science of living," it is our hope to tackle new challenges facing our society. We give our sincere thanks for your continued understanding and support of the Institute of Human Culture Studies.
Otsuma Women's University Museum Facility
The Otsuma Women's University Human Living Sciences Reference Library was established as a museum facility in December 2006 and, since it was designated as equivalent to a museum facility by Tokyo Prefecture in February 2011, it was rechristened the "Otsuma Women's University Museum" in April 2012.
Otsuma Women's University began in 1908 as Otsuma Gakuin, a private academy of sewing and handicrafts founded by Mrs. Kotaka Otsuma. Since then, throughout its history spanning over 110 years, it has collected a great deal of valuable materials related to the Japanese way of life. The purpose of this museum is to fulfill our role as an educational institution for the local community, by offering information about the Japanese way of life, as well as its culture and history. We do this by collecting, researching, organizing, preserving, and displaying these varied materials concerning "the wisdom and beauty of the Japanese way of life."

In addition, by collecting materials and actively displaying exhibits pertaining to the life and contributions of Mr. Ryoma Otsuma―husband of Mrs. Kotaka Otsuma and Otsuma's largest cooperator―we strive to educate those within and without the school about the history, traditions, and culture of Otsuma Gakuin.
Our school places particular emphasis on shaping career goals for each individual, and we hope this museum also helps fulfill that role for by inspiring both current students and members of the local community. As an institution of learning in our modern society which advocates life-long learning, we seek to provide new systems to enable people to easily access high quality information as they progress in their careers.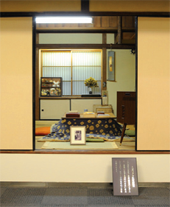 This museum is located right in the center of Tokyo, in Sanban-cho, Chiyoda-ku. This area has not only been the capitol of Japan since the Edo Period, but the area around Tokyo Bay is also the site of many ruins from as far back as the Jomon Period. Our museum's location is extremely advantageous in terms of thinking directly about the Japanese way of life, and sharing internationally. By making the most of that feature, and with the cooperation of the surrounding community, we hope to continue to grow as a museum that preserves, documents and showcases the wisdom and beauty of the Japanese way of life. We hope you will provide us with your long-term support towards this endeavor.
Center for Clinical Studies of Children
The Center for Clinical Studies of Children, which has been running since 1972, expansively reorganized its consultation room for outpatients. In 1992, the Center for Clinical Studies of Children was established as part of the Faculty of Home Economics as a center for clinical research in pediatrics, with the goal of sharing the results of that research with society.
Based on its experience since its establishment, this center is organized into two divisions―one for consultation and one for research. The research division conducts practical research concerning each field of pedology, and shares this information with society through forums, lectures, seminars, and workshops, etc. Meanwhile, the clinical consultation division provides consultations, interviews, and guidance services, as well as providing accreditation services for the Home Education Consultant's Basic Abilities Certification.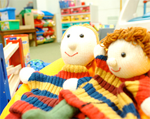 The staff of this center is comprised of a chief, officials, intake workers (consultation specialists), and assistants. The chief and officials are concurrently teaching staff in the Department of Child Studies. In addition, we also delegate researchers from outside the university as research and consultation staff, and we accept researchers and trainees from both within and outside of the university.
Each official at this center is a leading person in one of the various fields of child studies in Japan. We encourage anyone, anywhere in the country, with an interest in children, family, child-rearing, or the local area, to feel free to access this center.
The Institute for the Study of Manuscripts and Texts

(Affiliated with the Faculty of Humanities)
Currently, our Japanese Language and Literature and English Language and Literature departments are subdivided into various fields and disciplines, and the methodologies for each also vary by field.
However, as for the basic data that supports such research, at this point each researcher is searching for their own solutions for various problems, starting with the bibliometric processing of literature. In addition, modern times require that we make our materials available on the Internet, but we are currently still experimenting with various systems, and as for processing manuscript texts, the fundamental methodology of gaining collective ownership has still not been established.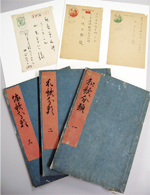 In light of these circumstances, this institute's foremost goal is to collect and consolidate fundamental materials concerning literature and manuscript texts. Furthermore, in order to process documents in a way that contributes to the study of literature, we aim to establish a fundamental methodology for gaining widespread collective ownership, and in doing so we hope to find new theories of literature research.
As a starting point for the goals stated above, we are carrying out such activities as joint research, field studies related to various documents, publication of report collections, lecture meetings, and open lectures.
Library
The Main Library is located on the Chiyoda Campus and the Branch Library on the Tama Campus. Both facilities provide students with access to various types of published materials to support their active and autonomous learning. On the fourth floor of the Chiyoda Campus's Main Library, a learning commons has been created to provide a setting for peer learning activities, including group discussions and cooperative learning sessions.
Teaching Profession Support Center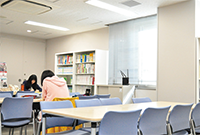 The Teaching Profession Support Center provides guidance and consultation for students taking teacher-training courses. It supports teacher-training course students from the time they take their recruitment exams until they teach their first class. Further guidance, consultation, and pertinent information regarding the acquisition of various credentials are also offered.
Center rooms are located on both the Chiyoda and Tama campuses, with full-time teachers and specially appointed teachers offering students guidance and advice. In addition, the Center provides support to students enrolled in courses to become licensed childcare professionals, librarians and school librarians, and museum curators.
Career Educational Center
At Otsuma, for four years for the university and for two years for the junior college, a wide variety of guidance/lectures for career support and job seeking are held, providing students with thorough career/job seeking support. We have numerous aptitude tests and interest measurement surveys, which allow each individual student to seek employment fully prepared. At the Career Educational Center, opened in April 2011, full-time faculties play a far-reaching and constantly supportive role in promoting career development for Otsuma Women's University students, by fostering career development within the regular curriculum and "Otsuma Management Academy (OMA)" career lectures, and other career development assistance.

Center for Promoting Community Cooperation
The Center for Promoting Community Cooperation aims to establish collaboration between teaching staff, administrative staff, students, and alumni of Otsuma Women's University and the local community, share our university's intellectual resources with the community, and work towards promotion and expansion of collaborative activities with the community for contributing to social development, and is dedicated to supporting these activities. In particular, we have launched and run the "Community Cooperation Project" which promotes community activities wherein our students are expected to participate to cultivate independence and activeness and learn how to acquire "cooperative independence," our university's educational philosophy, from experience.

The Institute for Research in English Education
The Institute for Research in English Education (IREE) was founded in April of 2017. It is an organization designed to support and enhance English education at Otsuma Women's University. It conducts research, and provides English teaching support. In the field of research, IREE publishes IREE Journal as a vehicle for the release of surveys conducted by the faculties of Otsuma. In the field of education, IREE is active in educational and learning support areas. It provides support for English classes, holds extracurricular lectures. In addition, it runs the IREE student study center and provides students with a well-organized system for self-study, a distribution of e-learning materials.

Food Science Skills Improvement Center
The Food Science Skills Improvement Center performs a number of vital functions. The Center's main goal is to advance practical research into nutritional issues in community and home care and to share its findings to benefit the entire country. The Center achieves this goal by improving the proficiency of registered dieticians who provide nutritional care and home-visiting nutritional guidance in the community, as well as training and offering information to individuals who are seeking to earn their certification as registered dieticians.

Institute of Inclusive Society and Culture (IISC)
IISC originated as a research institute affiliated with the Faculty of Human Relations on the Tama Campus in April 2019. Modern society is becoming more diverse and less accessible, so IISC seeks to create an "inclusive society" in which people respect and support individual diversity. IISC promotes theoretical and practical research and provides practical training primarily in the areas of sociology, psychology, and social welfare. IISC also conduct research under collaboration among industry, academia, and government to contribute the development of an inclusive society.
The Psychological Services Center
The Psychological Services Center, Otsuma Women's University was established in 2003 in Tama Campus as a consultation room of mental health for people in the community. The center provides psychological support (including counseling, psychotherapy, play therapy, psychological examination) for various mental health issues in infants, children, young people, and adults. As the center is a training institution for graduate students who are studying to qualify as clinical psychologists and certified public psychologists, in principle, our graduate students will be carrying out the actual consultations under the guidance of our professors.